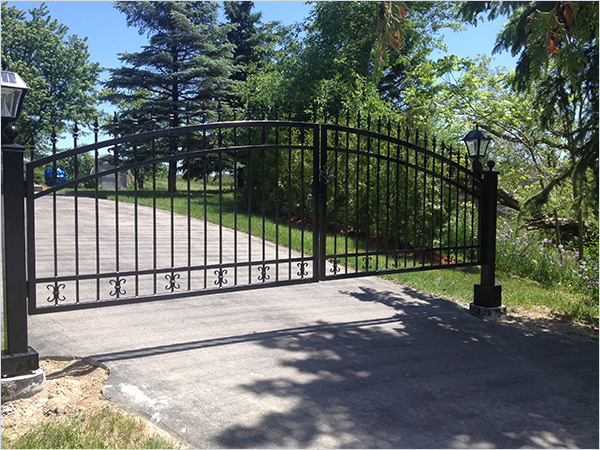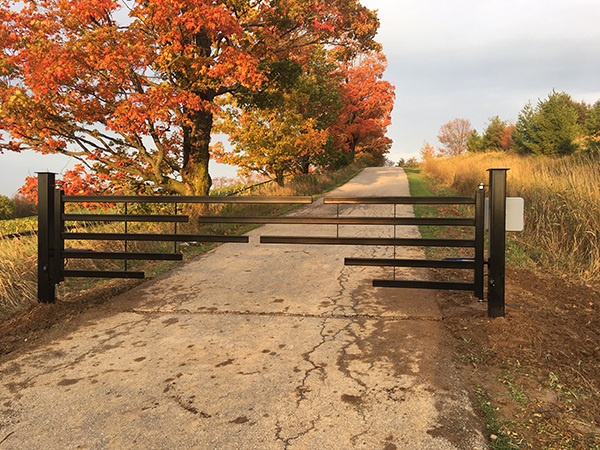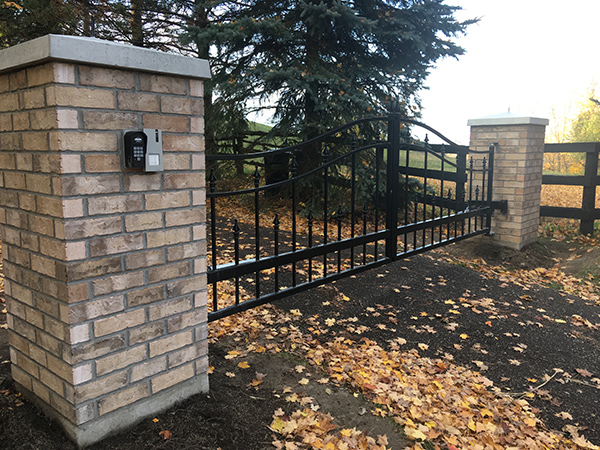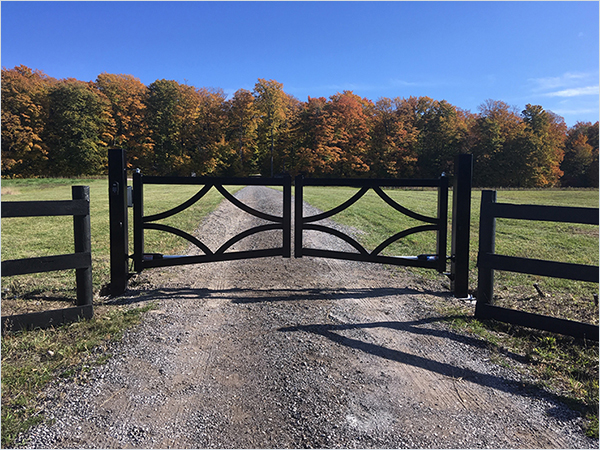 Driveway or estate gates are often desired primarily requested for security and privacy purposes. They definitely enhance curb appeal as well as add value!
Whether the gates are elegant and grand in appearance or a clean and sleek contemporary design. We can build your new custom gates however you choose. And…we can make them fully automated!
Want to see who is at your gates? How about controlling your gates from anywhere in the world? Yes, we can do that! Also, at Grandview gates every gate is made custom to your desire. From heights to widths to materials, post sizes, stone pillars, the options are endless! Timelines….from start to finish, the usually lead time is 6-8 weeks.
Please note…we custom build all of our customers gates! We do not sell anything imported.
Driveway Gate
Configurations:
Sliding gates:
These are single sections or panels that travel back and forth on a cantilevered track system, (rack and pinion or chain driven). Upon activating the gate via a remote, sensor, key pad or even manually, the section will begin to move horizontally until it has cleared the driveway. Sliding driveway gates are great for short spaces where grade or space for a conventional swing is not permitted. However, there is no real advantage of a slide gate over bi parting gates when it comes to snow and ice! Please note: (failure to manually clear or electrically heat or shelter the area behind the gate slide path will result in gate and or drive mechanism damage). Although sliding gates usually tend to be rectangular, many styles and designs can still be utilized even if they are rectangular or have an arched or abstract shape. Estimate cost for fully automated slide gates, $25,000-$50,000
Bi-parting gates:
This gate style and design is the most sought after! Can be opened manually or completely automated. Usually constructed in two swinging sections or leafs that mirror each other. These styles of gates will require significantly large sized footings or one keyed footing (one whole complete pad tying both pillars together across the driveway, dependent on soil conditions and type) The stone or steel posts that support the gates, only offer two options. Posts made of steel that are visible (least expensive) Or the elegant stone pillars which contain the steel post (skeleton) with gate support outriggers within the stone pillar (more expensive). Bi-parting gates provide for a secure and stunning addition to any property. Estimate cost for fully automated bi parting gates, $20,000- $50,000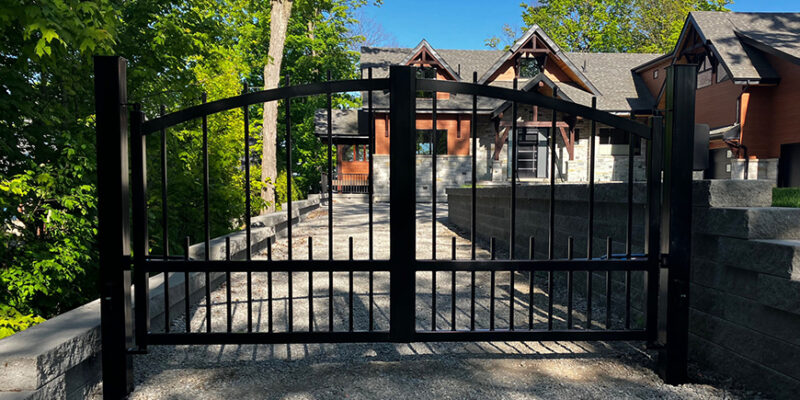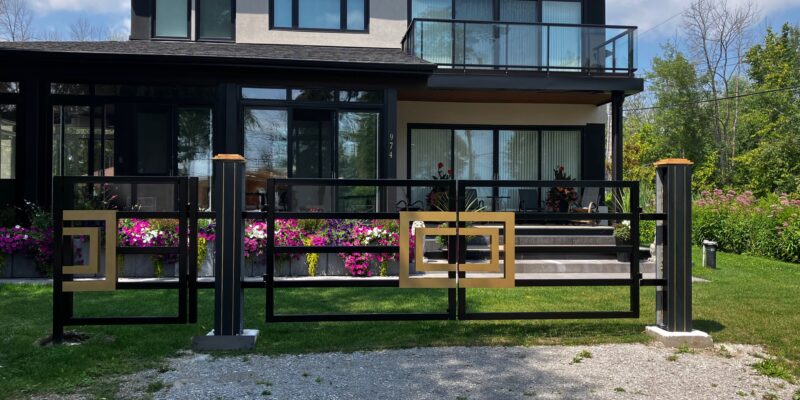 Manual or automatic openers, you have two choices. The first method manual, opening your gates by hand. The latter, is obviously more expensive. However with automated gates, the convenience is there. However, more planning will need to be considered and in place prior to commencement of project. A powerline and or communication cables run to gate location from the house (usually this work is completed by and electrical contractor). If requested, a telephone/intercom access system can be installed for communication with visitor at gates (hardwired) OR a sim card operated Cell box can be used instead. This allows communication with the visitor, as well as remote control access of your gates anywhere in the world (open close, hold open) (know gate status – open or closed) (optional video). Exiting the property, homeowner and guests via exit loop (wand) buried on the side or middle of the driveway. You may also want to install an SOS system, (siren operated sensor). In case of emergency, this will allow emergency response vehicles to use of their siren to gain entrance to the property ( with NO SOS system…you must contact your local fire station to inform them on a code or key in case of an emergency. Estimate costs for automation can start at $6000-$15,000 with the average cost being $8000-$10,000
The "whole Cost" what everyone wants to know, can range from $10,000 for a simple single gate with controls, one opener, footing single post etc installed. Or an elaborate and sophisticated set of grand entrance gates with stone pillars, intercom, cameras etc that can sometimes reach $50,000 plus. Below are just a few design ideas for driveway gates. If you have a design idea for your gates, give us the opportunity to work with you. Together we can design and we'll build you a custom, quality made, solid gates you'll be proud of. Your privacy and protection are important. The elegance and safety of wrought iron driveway gates gives you just that!